You're a business owner who's amazing at what you do. I'm a designer that makes sure your branding and website help you stand out.
Together, we'll work to bring your business into a new level of growth and alignment—we'll make your branding and website something you're proud of and truly reflects who you are. Ready to get to work?
My branding and Squarespace site design packages with customized add-ons have been created to fit your individual needs so you can stop feeling stuck.
HOW YOU FEEL NOW…
You've got this business thing down pat! You're confident in the quality of your work and client experience you're offering, but something is holding you back from charging higher prices.

Your business has grown and you feel like your branding and website just don't fit who you are anymore. It doesn't tell your story authentically, it doesn't reach the people you love working with, and it doesn't reflect the value you give your customers.

You've been bootstrapping and DIYing the design for your business since the beginning and now you're just plain tired of it—tired of wasting hours you'd rather be doing [fill in the blank] trying to figure out how to update your logo (again) or get that one page on your site to look a certain way.
HOW YOU'LL FEEL AFTER…
The new level of growth you've been trying to break into? You'll be there because the design and visual representation of your business will FINALLY be aligned with the amazing work you do. Say hello to higher prices that reflect your value!

You'll feel like everything just fits. We'll work together to get to the heart of your story, fine tune the intention behind your brand, look at your goals, and then craft something one-of-a-kind that you'd always imagined but couldn't quite put into words.

The time and energy you were putting toward design tasks can now be spent doing things in your zone of genius. You'll have peace of mind knowing your branding and website have been set up to be simple to maintain thanks to handy style guides and tutorials.
Bespoke Branding
This package is designed for the small business owner who is knocking it out of the park, but is ready to stand out from the competition and break into a new area of growth.
You're incredible at what you do and your clients adore you. Now it's finally time to get your design on par to match your outstanding skills and client experience.
The pairing of strategy and storytelling means you'll get design that aligns with where you are in business now and where you're heading in the future. Design with intention means it's design that lasts.
+ What's included?
In-depth brand discovery questionnaire that will allow us to get to the heart of your brand and start getting specific about what makes you different. This is the strategic foundation that all the design is built off of.
Collaborative mood board that will ensure we're on the same page for the visual direction your brand will be taking.
Family of three logos: primary logo design, alternate logo design, and submark/watermark design
Custom color palette (hex, RGB, and CMYK)
Suggested fonts
Set of icons
Custom pattern
Comprehensive brand style guide that teaches you how to use your logo files, your colors, and your typography. You'll be able to use this tool to keep your branding cohesive as you continue to use and build it in the future.
A la carte design add-ons are also available. Some examples include social media graphic templates, PDF design, monthly design retainer, etc. Book a call with me to figure out what other pieces your business needs to succeed.

Average Timeline: 4 weeks
Investment: starts at $2500
Branding + Website
This is my most-booked package! This popular design service combo gives your business a visual overhaul from top to bottom.
This package includes bespoke branding and a thoughtfully-designed Squarespace site that work hand-in-hand to attract your ideal clients, reflect your value (hello, higher prices!), and provide you with a business tool designed to help you flourish.
You'll have effective design that acts as your 24/7 brand ambassador and sales rep so you can spend more time doing what you love.
+ What's included?
Everything from branding package plus:
Website planning strategy call + questionnaire where we'll discuss:

Specific goals of your site
Features and design elements you'd like
Navigation and flow of your site

10 page Squarespace site that is thoughtfully designed with your audience in mind (e-commerce set-up extra).
Design that looks great no matter the device
Help integrating MailChimp, Acuity, Dubsado, etc.
Squarespace training call and/or videos
Two weeks post-launch support
Peace of mind knowing your site is built on a platform that is simple to maintain, secure, and always adding more features to help grow your business.
BONUS! Since I'm a Squarespace Circle member, you'll get 20% off the price of an annual plan for your first year.
A la carte design add-ons are also available. Some examples include social media graphic templates, PDF design, monthly design retainer, etc. Book a call with me to figure out what other pieces your business needs to succeed.

Average Timeline: 6-8 weeks
Investment: starts at $5000
Now to customize it.
Your business is unique, so the design support you'll need in addition to branding + a website are going to be unique (of course!). That's why the extras are up to you, my friend.
Need design work created on a regular basis after your branding and website are complete? Add a monthly retainer onto your package for continued design support.
Launching an online course or workshop? Add on custom worksheets and webinar slides that will delight your students.
Want to up-level your client experience while setting boundaries? Add on a welcome guide you can clients before you start working with them.
The supporting pieces you need for your business are specific to you and your stage of growth, so let's hop on a call and see how I can help tailor a package to you!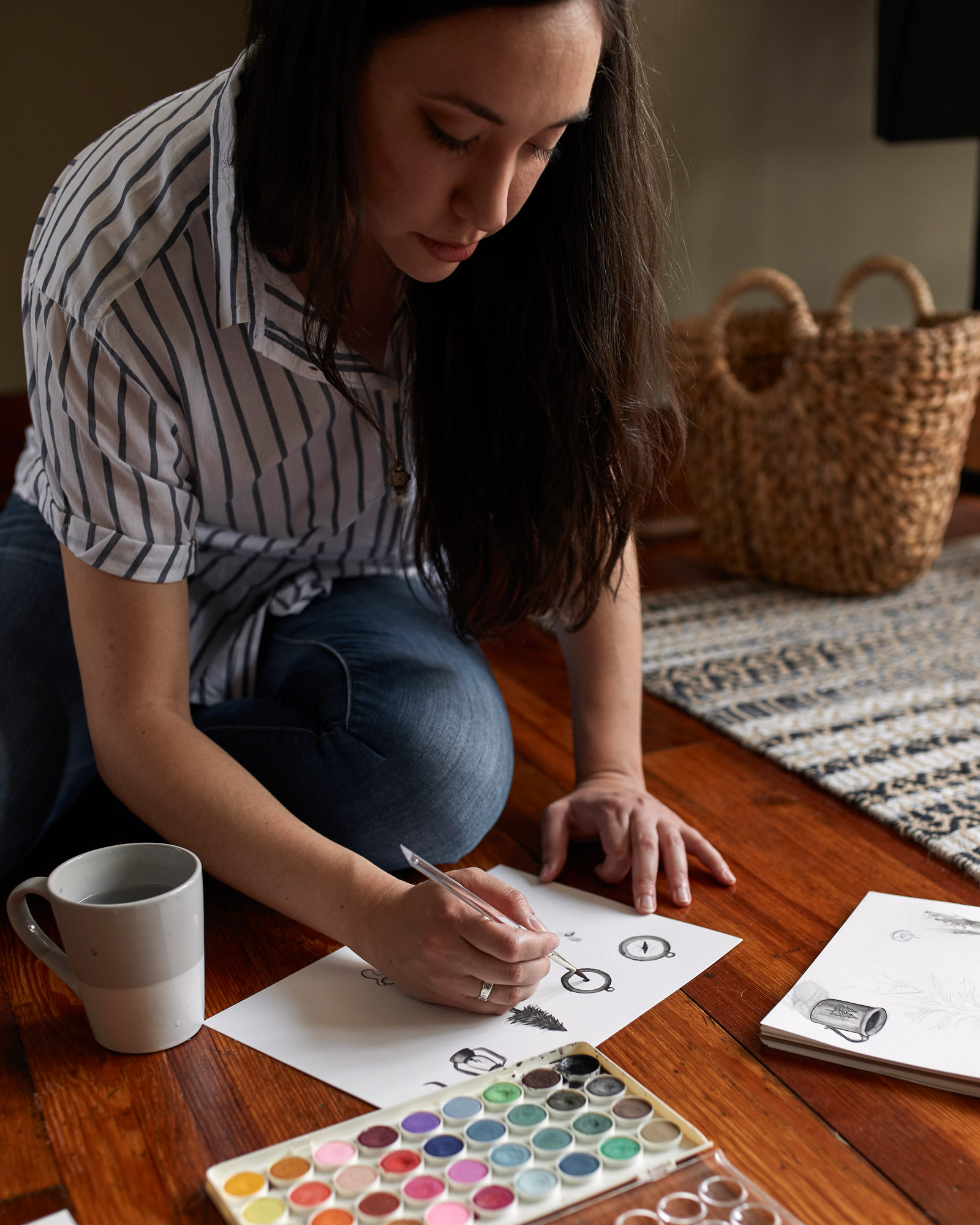 Not quite ready for custom design but need clarity and direction for your brand? Check out my Brand Discovery coaching calls.
+ What does "handcrafted design" mean, exactly?
I'm glad you asked! Part of what makes my brands handcrafted is that I will literally craft elements by hand (if it suits the project, of course!). These type of design elements can include custom lettering for your logo, or one-of-a-kind illustrations to add personality to your branding. I'm not a designer who is restricted solely to what I can create on a computer screen. In fact, I love putting my art skills to work!

+ What logo files do I receive?
Each logo file will be sent in full-color, black, and white as a .jpeg, .png, and .eps file so you can have the flexibility to use your new branding to its fullest potential, on everything from digital to print.

+ How do I book?
To start the booking process, simply fill out one of the forms found on this page or on my contact page. After you've gotten in touch, we'll have a quick chat about your project. If we're a good fit, I'll send you a design contract and an invoice for a 50% nonrefundable deposit. Once those steps are completed, your spot in the queue will be reserved and we can get to work making magic!

+ When are you available for new projects?
Availability varies, so it's best to shoot me an email about your project and ideal timeline. I can't wait to hear from you!

+ Do you design sites on other platforms besides Squarespace?
I solely design sites on Squarespace for a few reasons. I've found this platform to be the simplest for clients to manage on their own since it's very user-friendly, without sacrificing quality of design. It also allows flexibility in design so that each website looks unique, even if it uses a popular template, plus it's robust enough to support my clients' growing businesses into the future. Custom-coded sites have a pretty steep pricetag, so it's my wish to keep things as affordable and simple for the creativepreneurs I work with.

+ What if I have a website on another platform? Can you help me switch over to Squarespace?
That's not a problem! If you have a website designed using another platform, I can certainly help you get things moved over to Squarespace. From there, we can work together to build a new, easy-to-use, and user-friendly website for your business!

+ Do you have a retainer service available in case I need more design work after my project is completed?
You bet! Retainers are available for my branding clients, as well as other business owners who already have a professional, established visual identity but just need help with checking "design to-dos" off their list. For more information about this service, please fill out the form on my contact page.